Why Choose us?
MODERN WORKSHOP
Advertising is about responsibility, creativity and willingness to focus on the needs of the customer. This has been the mission for K4 General Trading & Contracting Co. whose power lies in the fact that all the steps taken right from concept to maintenance is done in-house by their extremely creative and professional team. No work is too big, or too small, and any project is taken on as creative and purposeful challenge. We have the people, we have the Knowledge and we have the Production Power.
Assured high quality and dependability
Engineered to high standards
Tested under extreme conditions
Why Choose us?
OUR MISSION
We are committed to deliver a strong product portfolio to our clients with emphasis on high efficiency and quality through dealing with world reputed suppliers in the field of industrial and transportation business.
Our duty is to focus on the market needs and distribute value through after sales services and by building strong relationships with our customers founded on trust and reliability which contributes to better outcomes for the customers, the suppliers and our business.
Tested under extreme conditions
Engineered to high standards
Assured high quality and dependability
Why Choose us?
OUR VISION
K4 is determined to be the number one distributor in its industry in the Kuwait market, increasing its market presence and growth every year by fostering a winning network of customers and suppliers and together creating a mutual longlasting success and decent reputation.
Engineered to high standards
Assured high quality and dependability
Tested under extreme conditions
Our group has a major business division Viz. Architectural services, Trading, Industrial, Marine & Logistics. Each of these divisions contributes significantly to overall progress for the year.
Automotive

The automotive division will let you treat your ride as a unique piece of art.

Our portfolio includes painting, detailing products, protective products, and much more.

DETAILS
We look forward to working with you in the future, and the opportunity to implement our motto which is, working together for success.
At K4 We Provide
BEST SERVICES YOU CAN COUNT ON!
Our highly advanced workshop creates a perfect harmony between skilled craftsman and their equipment. The factory space allows the personnel from different departments to bring any concept form to life.
Excellent Reviews From Customers
We Provide New Offers Whole Year
Expert Technicians
Lifetime Guranteed Auto Work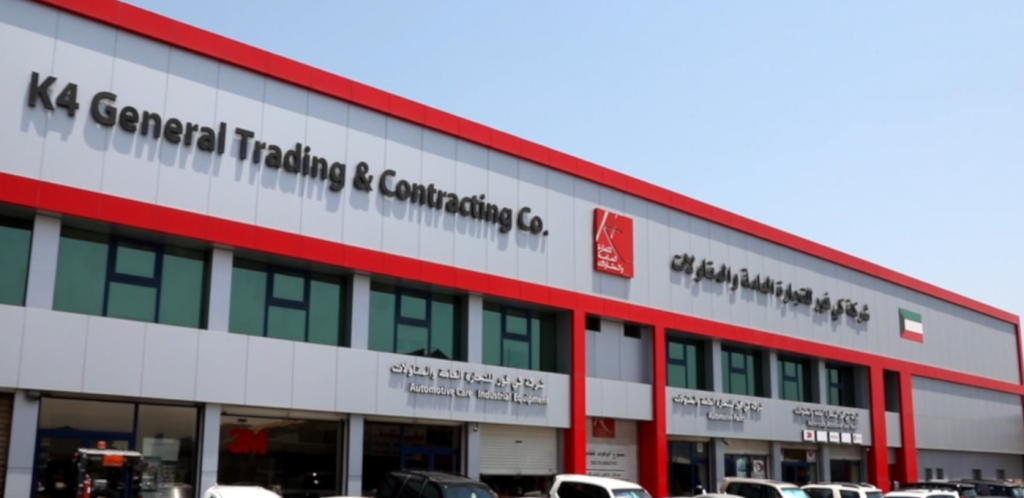 Al-Mulla Application Center

Al-Mulla Application Center… A high standard facility built by K4 to serve the Al-Mulla group for applying window films and paint protection films. The application center is located at the Mitsubishi facility in Al-Rai, it consists of 5 bays served by very well trained and qualified technicians.

READ MORE

Automak Ahmadi Paint Mixing Room

We are glad to announce that recently we won the contract to supply PPG paint to Automak Ahmadi branch. We would like to welcome the Automak Ahmadi branch to our family and ensure to deliver the maximum support to our partner.

READ MORE
ASSOCIATED WITH THESE BRANDS
Contact K4
FEEL FREE TO CONTACT US